Innovative ways Multifamily is rethinking operations, maintenance, and leasing:
Artificial intelligence helps better serve residents and free up staff
Adoption of a centralized approach to specific daily operations
Invest in smart tech to reduce energy costs
Self-guided tour technology plays a key role centralized leasing
Enter Gen Z and Forever Renters
2023 appears to be an extension of 2022, bringing along elevated rates and escalating costs. In a 2022 National Apartment Association poll, 74% of property managers and operators identified labor shortages as one of their biggest challenges. This year, the focus is on interest rates and rising costs, especially given the uncertain economic outlook. However, multifamily is enjoying some tailwinds that promote stability in 2023. Specifically, the high cost of owning single-family homes and a shortage of housing options are contributing to a favorable situation for multifamily properties to attract renters. According to the Yardi Matrix 2023 Outlook, "rents will be supported by the lack of housing options, as single-family development declines and first-time homebuyers are excluded. Additionally, property owners will bring renewal rents closer to the rates on new leases."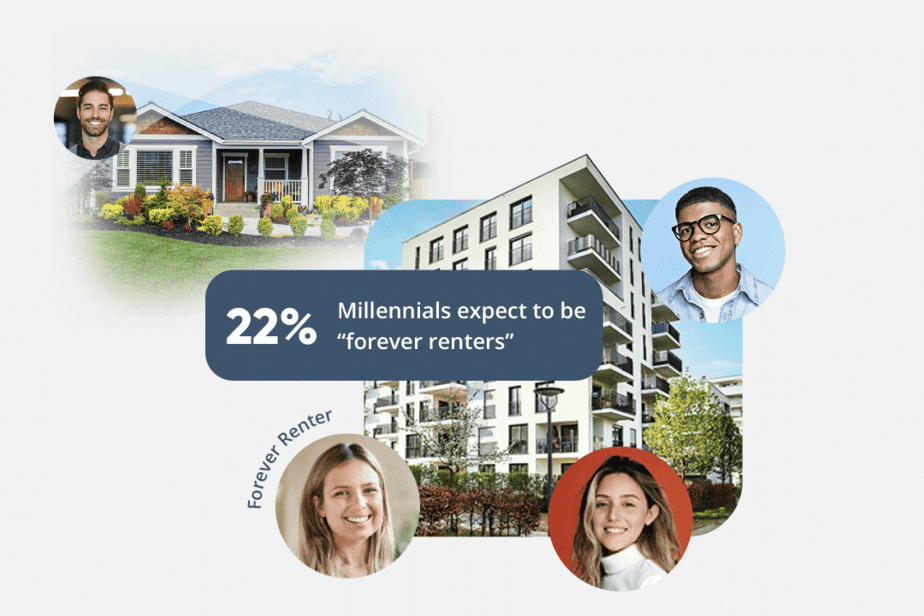 Using AI tools to improve efficiency
Industry leader, Mark-Taylor Residential, is spearheading the development and use of "Hobbes", an AI tool developed by Union in support of Union's Central Office software. Hobbes supports various aspects of property management, ranging from leasing to maintenance. According to John Carlson, the more Hobbes interacts with the marketplace, the more it learns and evolves. Over the next two years, Hobbes will be asked to perform tasks that are beyond the capabilities of today's AI.
Currently, the tool processes an impressive 42% of prospective resident appointments. Hobbes will aid leasing agents by providing real-time information through Union's CRM dashboard. This functionality will enhance the personal interaction between leasing agents and prospective residents with meaningful artificial intelligence.
Moreover, Hobbes will enable property management companies to solve staffing shortage issues, reduce cost per lead, empower self-service to support the growing renter preference for real time digital communication, and measurably improve the overall renter experience.
Apply principles of thinking different
Centralized Thinking.
Implementing a centralized approach to day-to-day operations can enable property operators to achieve cost savings and provide more efficient service to residents. John Carlson explains in a podcast by Apartment Academy that in the past, the old model did not share staff between locations. For instance, if there were 9 assets in one location and 5 in another, personnel were not shared between locations. Under this model, if property "A" had 20 work orders and property "B" had only 5, personnel would be re-allocated accordingly.
Today's new normal demands that we evolve the way we operate – down to the fundamentals. We are proud to evolve for the future of multifamily management with Mark-Taylor's Integrated Operations Network (ION). Mark-Taylor goes beyond centralized leasing – integrating the operational functions of lead management, resident relations, financial operations, and service.  As a fully integrated management solution, we are able to unlock a new standard of peak performance. Our unique hybrid model meets the consumer shift to self-service, supports our internal teams and serves our clients through innovative technologies.
How Smart Tech Fits In.
Smart technology is essential for a centralized model in multifamily buildings. It integrates various building systems such as HVAC, lighting, security, and access control into a single platform, which is managed centrally. Data from sensors and devices is collected throughout buildings to provide insights into utility usage and maintenance needs.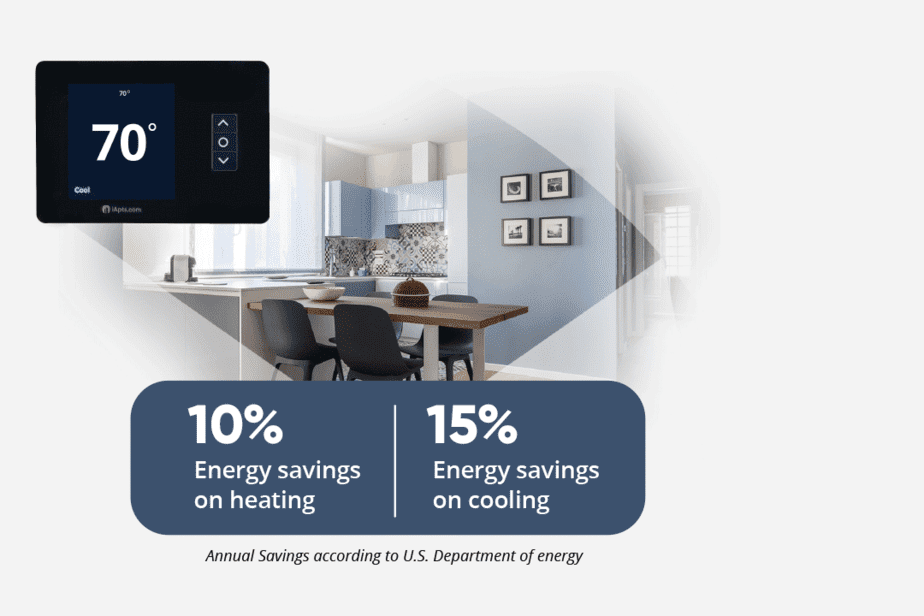 Prioritize energy efficiency
Property operators are taking tactical steps to manage utility cost in strategic areas of properties. Doing it manually is just too time-consuming and expensive. Installing smart technology can prove to be very effective, especially in vacant units and common areas – upwards of 15% in savings. Managers can easily set preferences and set heating and cooling standards using a central dashboard.
Recognize the customer shift to self-service
Gen Z and Millennials prefer a "low-touch" experience when leasing a property. Typically, leasing teams spend a lot of time scheduling property tours rather than giving them. Self-guided tour technology automates the entire process, from scheduling and identity verification to wayfinding, enabling prospective residents to tour properties without a leasing agent present. Once the tour is completed, the prospect's profile and desired move-in data are shared with the CRM, which can help offset the cost of adding additional staff to the leasing office and eliminate the need to fill a vacant position.
60% of residents said they do not need to have contact with staff during the leasing process. – Mark Taylor Resident Survey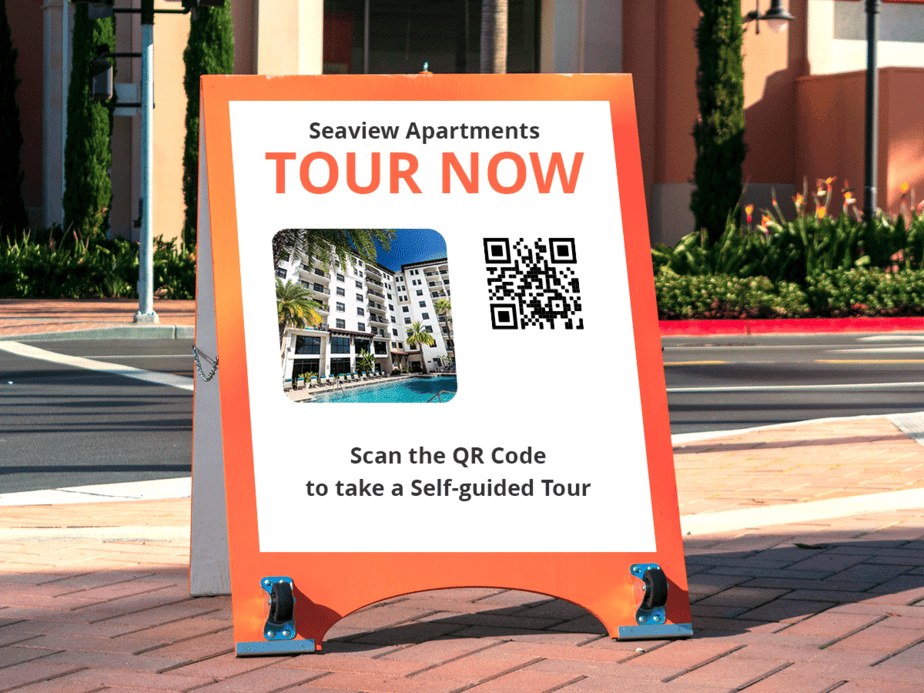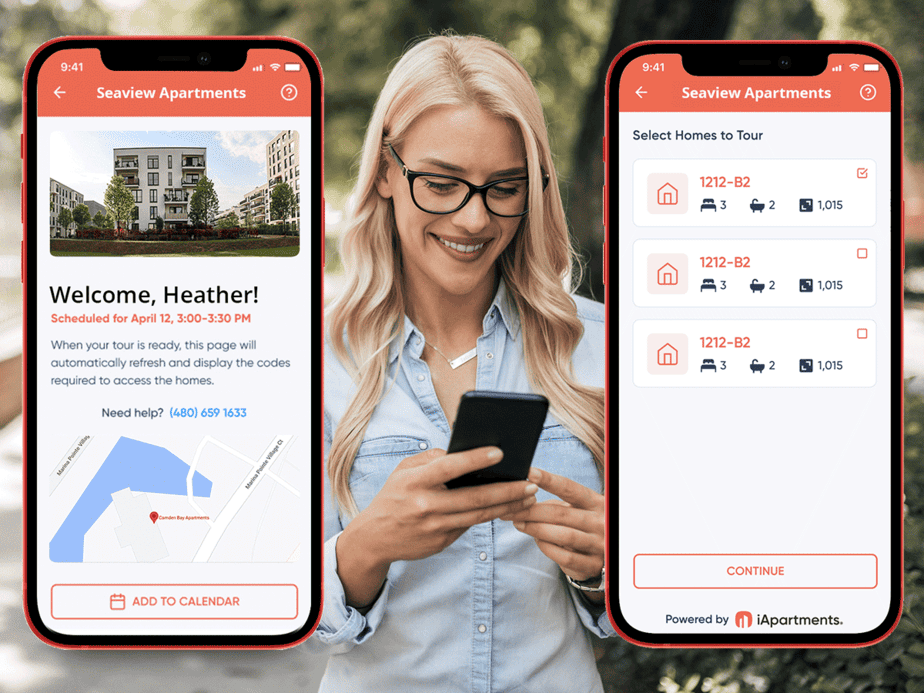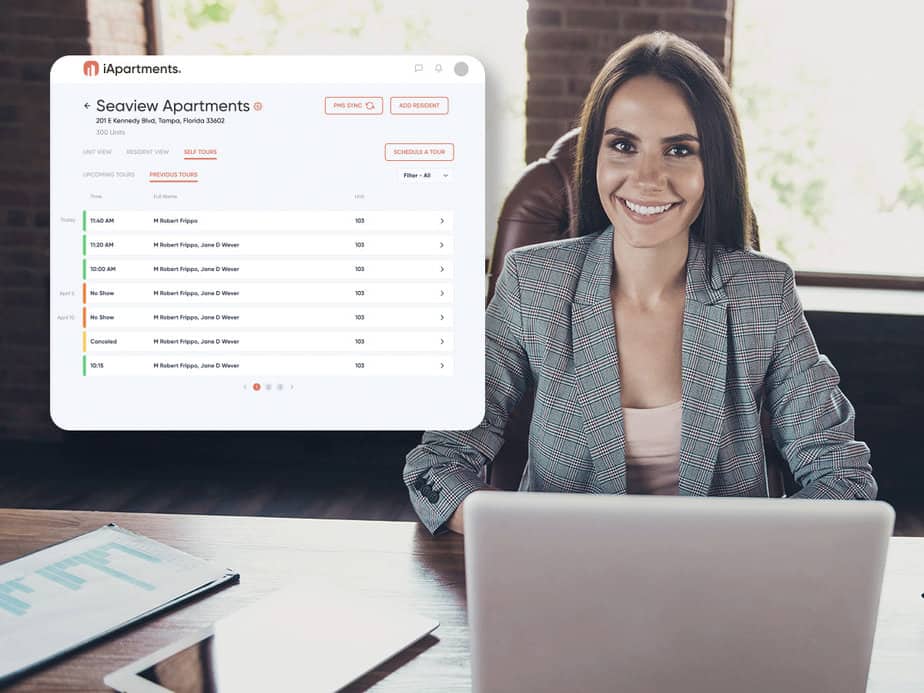 Everyone wins with smart access
Smart access provides efficiency, convenience, and security to everyone. By implementing a keyless entry system, costly physical key track systems can be eliminated, saving staff time and an estimated $4,000 per location annually, not to mention eliminating the liability of copied master keys.
Efficiency is improved when tenants move out. On-site staff can easily transfer the unit from occupied to vacant, triggering a succession of automated actions, including changing access codes for locks, creating work orders for turn requests, adjusting temperature to conserve energy, and turning off lights.
In addition, smart locks enable temporary access to model units for self-guided tours.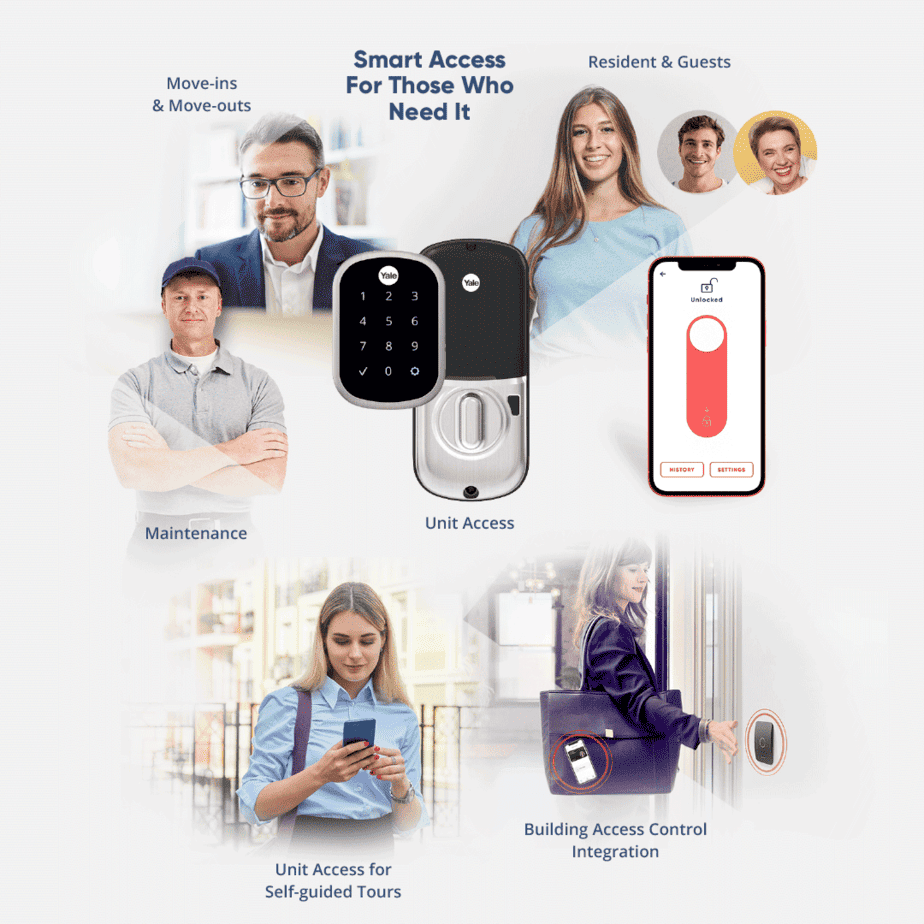 Manage multifamily building essentials from one place
Heather Moore of Greystar, America's largest property management firm, explained that, "One of the top questions we get from clients is regarding the number of apps needed for building management. Nobody wants to come home to their apartment and use one app to pay their rent, another app to fix their leaking faucet, and a third app to open the front door. Residents want a full-scale experience that's managed in one place."
iApartments technology platform gives residents the smart apartment living experience on the front end while delivering operating efficiencies and energy cost savings on the back end for operators.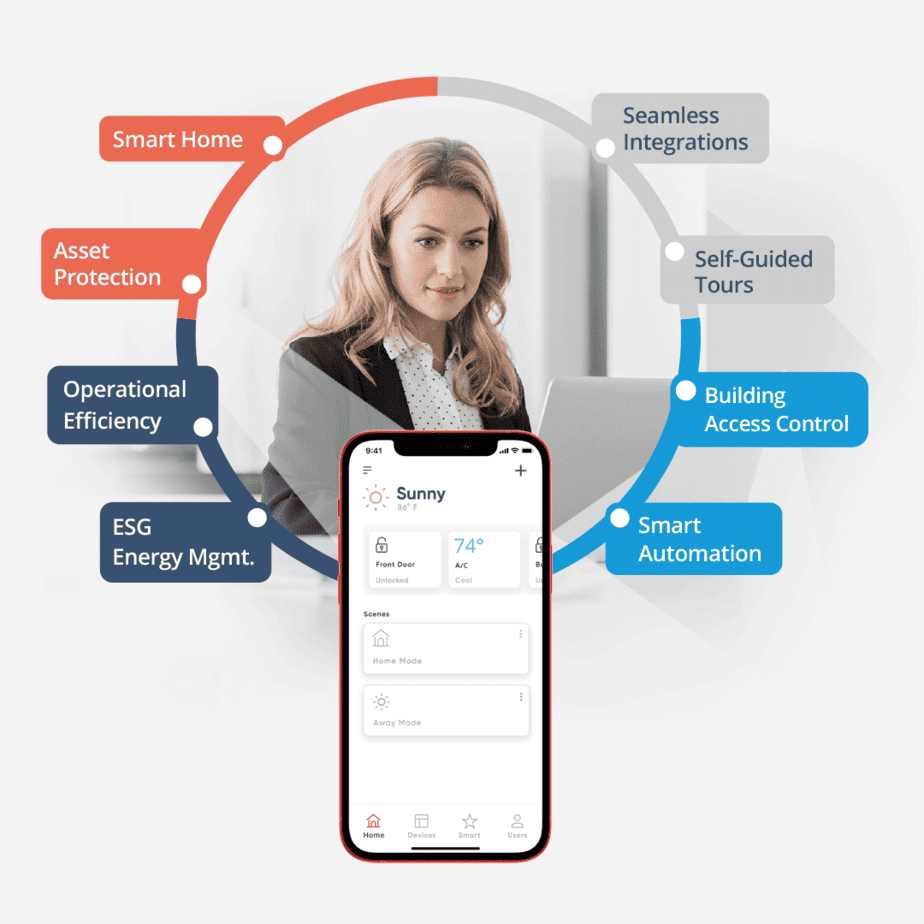 iApartments provides innovative smart technology for Multifamily
iApartments transforms multifamily properties into intelligent apartment communities. Founded by multifamily and smart home trailblazers, iApartments combines its next-gen automation technology with a disruptive approach that removes the upfront challenges for new and retrofit communities so they can leverage an enterprise-level platform, with the simplicity and ease-of-use they need.
From its best-of-breed smart home solution that improves asset protection to smart access and self-guided tours, iApartments enhances the living experience for residents, maximizes operational efficiencies for property managers and increases Net Operating Income (NOI) for property owners, while delivering on ESG goals. iApartments is trusted by the world's largest apartment operators.
Read More on Everything Smart Home, Controlled Building Access, and IoT