Solving challenges and enhancing lifestyles
Smart apartment technology has become one of the most desirable upgrades for apartment operators. Property management companies of all size are looking for ways to address labor shortages, energy management, and operating efficiency. Residents are looking for compelling tech amenities to enhance their overall living experience. They're looking for everything from smart appliances to convenient ways to have groceries delivered or cleaning services performed while they are at work. The technology centerpiece that can make all of this happen is a smart apartment platform.
Centralization
A continual topic on the minds of apartment owner operators is "centralization of leasing and maintenance resources." This business process has gained traction as labor shortages have created a need to do more efficiently and at lower costs. Hence, smart technology is playing a major role. Technologies like self-guided tours are making it easier for prospective resident to tour a property – with a leasing agent present. Maintenance managers can now manage multiple properties. They receive real-time alerts when an HVAC system malfunctions. The alerts are then sent to on-site repair personnel to address the issue.
Here are smart technologies that enable centralization of maintenance, management, and leasing:
Smart apartment platform
Remote water leak detection
Remote HVAC analytics
Self-guided tours
Automated Energy Management
Consider this when choosing a smart apartment platform:
Software and Hardware Integrations
What Property Management Software (PMS) is your company currently using? If you manage a portfolio, a smart apartment platform will seamlessly integrate with multiple PMS systems. In the not too far future, leasing teams will be able to move a new resident in without even meeting them. Qualification forms are filled out online. Then smart technology can pass new smark lock credentials to the unit. The resident moves in. Now that is seamless.
Hardware integrations, like smart access readers for buildings, enhance security and allow communities to offer self-guided tours. Prospects and residents are granted access via their smart phone. Simply wave you hand over the access reader. Credentails are varified and acces is granted or denied. A smart apartment system makes this all happen.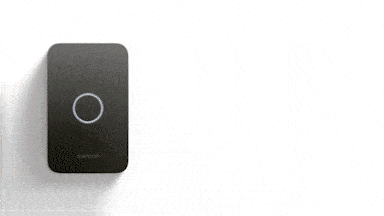 Connectivity
Connectivity should be near the top of your "smart property must-have list." It allows property managers to use data from the building as a whole. The strength of the connection to IoT devices, like smart door locks, is paramount. You can invest in an IoT network infrustructure and connect with community Wi-Fi. However, this route can be expensive. At times up to hundreds of thousands of dollars. Luckily, leading smart apartment platform providers have a second option that is less costly.
A smart hub thermostat with built in cellular connectivity eliminates the need for a costly network infrastructure. Now  The one shown here uses CAT M1 cellular technology that was built specifically for IoT projects. Not only will it connect to smart home devices in the apartment, but it will push out and collect data that your management team needs to make better decisions.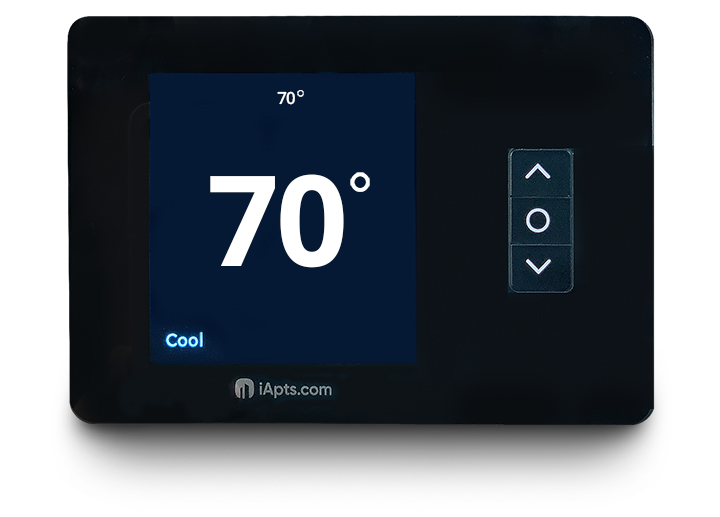 Smart Hub Thermostat with cellular connectivity
No costly network infrastructure needed
Commercial grade smart thermostat, built for multifamily
Asset protection & proactive maintenance built in
On-screen resident engagement
Quick installation/setup for retrofits and new construction
Multifamily Industry Experience
Over the years, the number of smart technology provider options has increased dramatically. Most stem from technology companies that offer single-family smart home solutions and are now looking to enter the multifamily space. To find a supplier who truly understands multifamily rental housing, it is important to make sure you deal with a provider that already has strong cleint partnerships.
What to look for in a Smart Apartment Platform:
Connectivity with out need for a IoT network infrastructure
Ask about cellular connectivity
Seamless hardware and software integrations
Onsite training should be included
24/7 white glove support
It is important that the turnkey solution works right out of the box and can provide net operationing income on day one.
Multiple Benefits of Smart Lock Access
Smart technology is really important right now. Especially in Class A properties. Prospective residents are looking for modern amenities that include smart lock access. It makes access convenient for residents and for management teams. Smart Locks also allow property site-teams to save precious time by not having to go back and forth to retrieve keys to access units. This convenience can also be extended to painters, carpet installation vendors and other contractors, who can be given temporary access while running turn work in the apartment. This frees up office and maintenance managers so they can focus on their residents and increasing occupancy.
2Bayshore Apartment Community, in Tampa FL, saved 618 site team hours per year by implementing a keyless apartment system. A significant amount of time was also saved during site fire inspections. By assigning temporary access codes to the fire department, inspections for 367 apartment homes were completed in half the time.
Beyond convenience, smart locks improve security. Operator can now qualify for insurance discounts. "Our insurance company has a checklist that includes all the different programs you have in your building. One of them is cameras. Another is access control. We receive points for each of the systems we have in place,"says Zion Perets, vice president of development at CGI, in an article in Multifamily Executive.