What you need to offer self-guided apartment tours: (1.) Technology platform (2.) Browser-based application (3.) Smart locks (4.) Building Access Control (5.) CRM Integration.
Why you should offer self-guided tours
As an owner or manager of an apartment community, offering self-guided tours can be a game-changer for your business. In today's fast-paced world, potential renters value flexibility and convenience. Self-guided tours can offer just that, allowing renters to tour your community at their own pace and on their own schedule. When a prospect requests a self-guided tour they are signaling that they are truly interested in your community – not just window shopping.
What are self-guided-apartment tours?
Self-guided apartment tours are a modern way for renters to tour an apartment community on their own, without the presence of a leasing agent. These tours are typically facilitated by technology such as a mobile app. Renters are able to explore the community on their own, viewing amenities, floor plans, and other important features at their own pace.
Offering self-guided tours has numerous benefits for apartment communities. First and foremost, it allows potential renters to tour your community at their own convenience. With self-guided tours, renters can schedule a tour outside of normal business hours, or on a weekend when leasing agents may not be available.
Additionally, self-guided tours can help reduce the workload for your leasing agents. While renters to take a self-guided tour, you can free up your leasing agents' time to focus on more complex tasks, such as answering questions or closing deals.
Self-guided apartment tour industry data
The multifamily industry has seen significant growth in self-guided tours in recent years. According to a survey by the National Multifamily Housing Council, 37% of apartment operators currently offer self-guided tours, with an additional 31% planning to offer them in the future.
In addition, a survey by Zillow found that 40% of renters prefer self-guided tours over in-person tours, and 82% of renters who take a self-guided tour end up leasing a unit.
Benefits of self-guided apartment tours:
Self-guided apartment tours have numerous benefits for apartment communities. Here are some of the most notable benefits:
Increased Flexibility: Self-guided tours allow renters to tour your community on their own schedule, without a leasing agent present.
Wider Audience: By offering self-guided tours, you can attract renters who may not be able visit during normal business hours.
Reduced Workload: Self-guided tours can help free up your leasing agents' time, allowing them to focus on more complex tasks.
Improved Conversion Rates: According to a survey by Zillow, 82% of renters who take a self-guided tour end up leasing a unit.
Cost Savings: By reducing the workload for your leasing agents, you can potentially reduce staffing costs.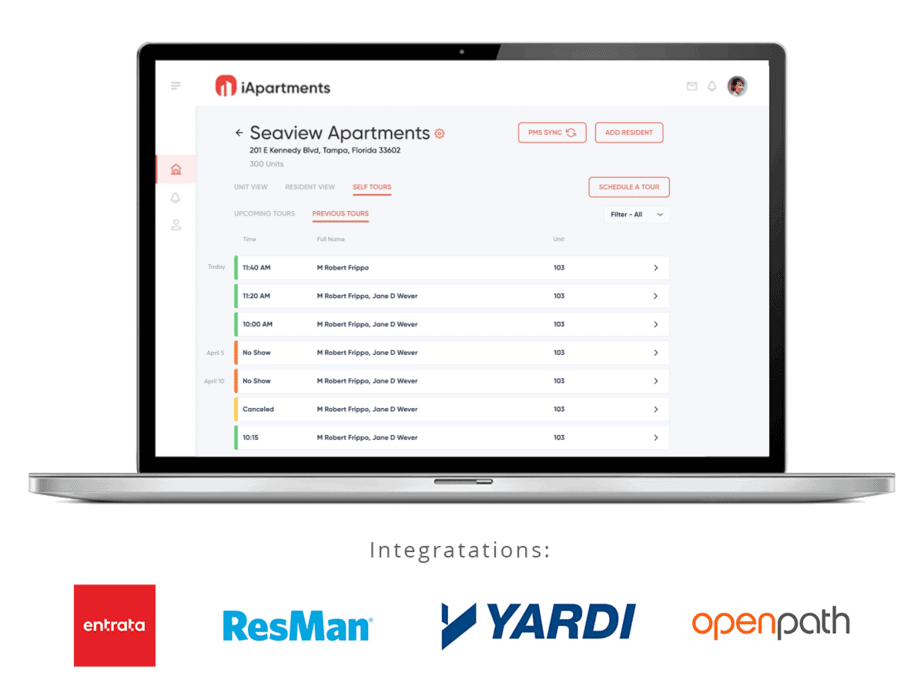 A technology platform provides a dashboard captures the data from prospect renters that book a self-guided tour tour. This data is also integrated with your CRM and with access control systems like Openpath.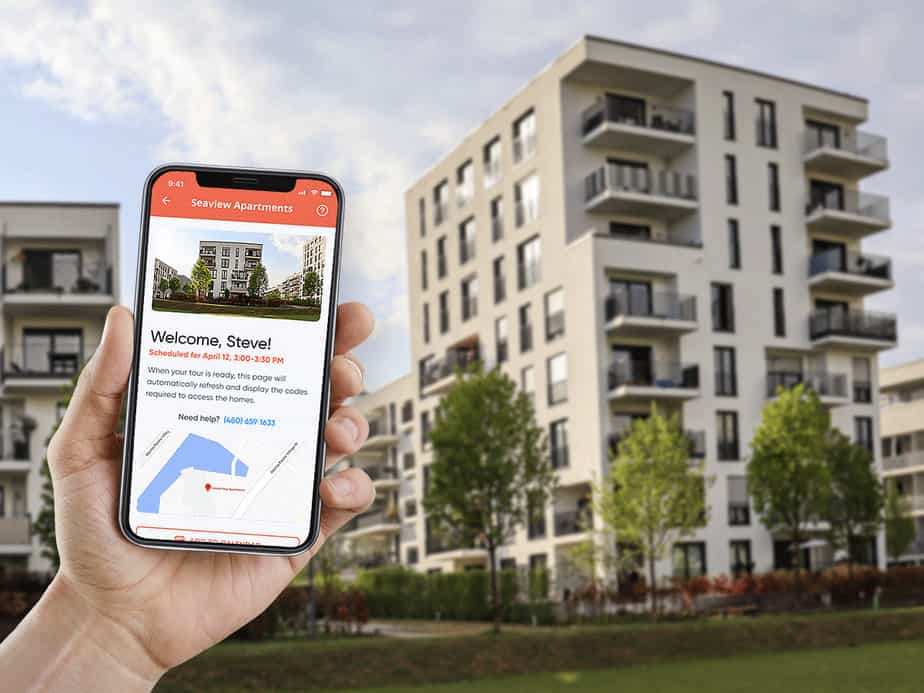 Tours are booked and scheduled through a browser-based application that offers wayfinding to assist the prospect tenant as they walk the property.
Technologies needed for self-guided tours of your apartments
Self-guided tours requires some initial investment in technology. At a minimum, you will need a technology platform coupled with a mobile app. The technology platform is needed to tie everything together – the mobile app, IoT hardware, integrations, and your existing property management system. The mobile app should be browser-based and easy to use, allowing renters to book a tour, access community information, and view floor plans and amenities as well.
Self-guided touring solution should include:
Technology platform with a dashboard to manage tours settings and preferences.
Browser-based application to schedule tours, provide tour wayfinding, and share data with your leasing team.
Smart locks to provide keyless access to vacant apartment units.
Optional integration with building access control devices so prospects can enter buildings and amenities.
Integration to your CRM so that prospect profile information is shared with your leasing team.
The benefit of using a browser-based application as opposed to an app downloaded to a phone is that prospects will resist downloading an app just to take a tour of your property. After all the goal is to make it as easy as possible for a prospect to explore your property.
Self-guided tours are different than virtual tours
There are many options on the market today that offer various solutions, but not all of them are the same. Some are virtual tour systems, and some are called "touchless" self-guided tour solutions. The word "touchless" is used because the prospective renter is physically present during the tour, but they do not need a leasing agent on hand to guide them.
A virtual apartment tour is an off-site experience where a prospect is viewing video and images of the property and resident units on their computer, maybe at home or the office. On the other hand, a self-guided tour allows the prospect to physically walk the property, enter buildings, and see vacant units for themselves.
How the self-guided tour process works
Requesting a tour is easy and can scheduled from comfort of their home or while on premises. Begin by scanning a QR code that is placed on your property's website or on a nearby sign outside the leasing office. The QR code links to a browser-based touring application that is optimized for mobile and branded to your property.
Requesting an apartment tour
Next, select from your inventory of apartment units available to rent – one, two, or three bedroom. Then choose the date and time to tour – you can tour one or multiple units. The beauty is that your leasing team can enable tours of vacant units or model units, plus they have full control over tour schedules.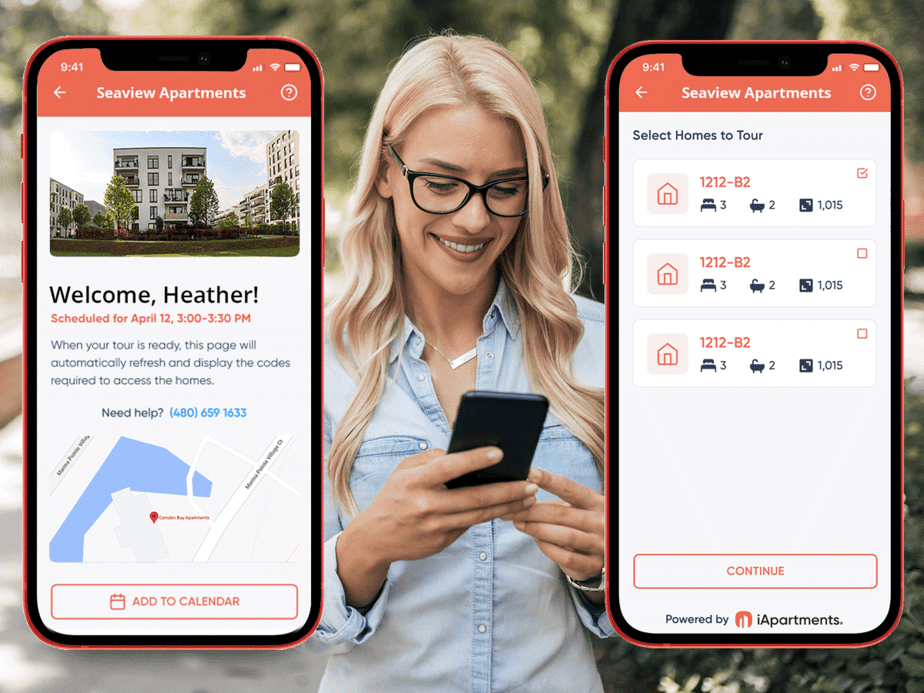 Self-guided apartment tours are scheduled online. View available apartments to tour, select a convenient day and time, then request a tour.
Prospects enter profile information, upload their drivers liscense to varify idenity, and submit a facial scan from thier mobile device.
These features should be top of mind
Make your self-guided tour experience safe and helpful as possible by offering features that address security, assisted navigation, and keyless access to the apartment.
Identity verification
It's important to have confidence that welcomed visitors are here for the right reasons. Guest submit contact information and a valid government ID, as well as a biometric selfie scan. Verification is accepted or denied on the spot. If accepted, a passcode is issued via text so the guest can access buildings and the apartment unit.
Wayfinding helps them explore the property
Let prospects see more of your property. A self-touring solution with wayfinding ensures your prospect is seeing the most desired aspects of your community. Amenities like the gym, pool, and common areas like a roof top lounge are among the top areas to visit. Additionally, you can grant secure access to these areas by integrating smart building access readers. This type of controlled access will provide a seamless tour experience and improve overall security of your building as well.
Use the Smart Lock to grant access to vacant units
Now that the future renter has seen the best features of your property, it's time to give them access to the apartment. The temporary passcode is used to unlock the smart lock on the apartment door. After exploring the apartment, the smart lock can automatically lock the door on their way out.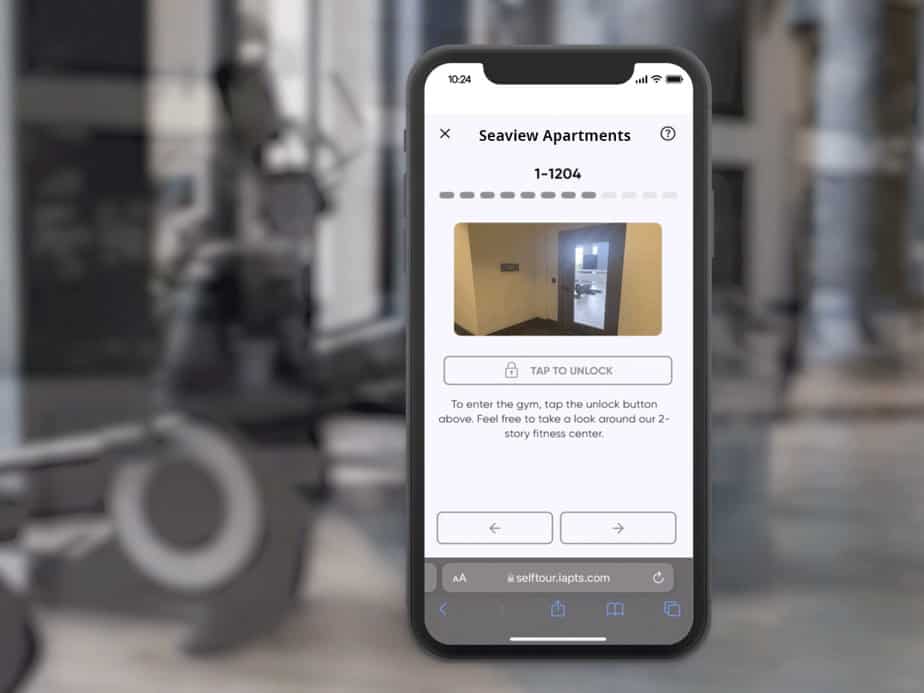 Wayfinding helps guide the prospect and highlights popular ammenities. Enter the door to the gym by tapping "unlock" on your smartphone.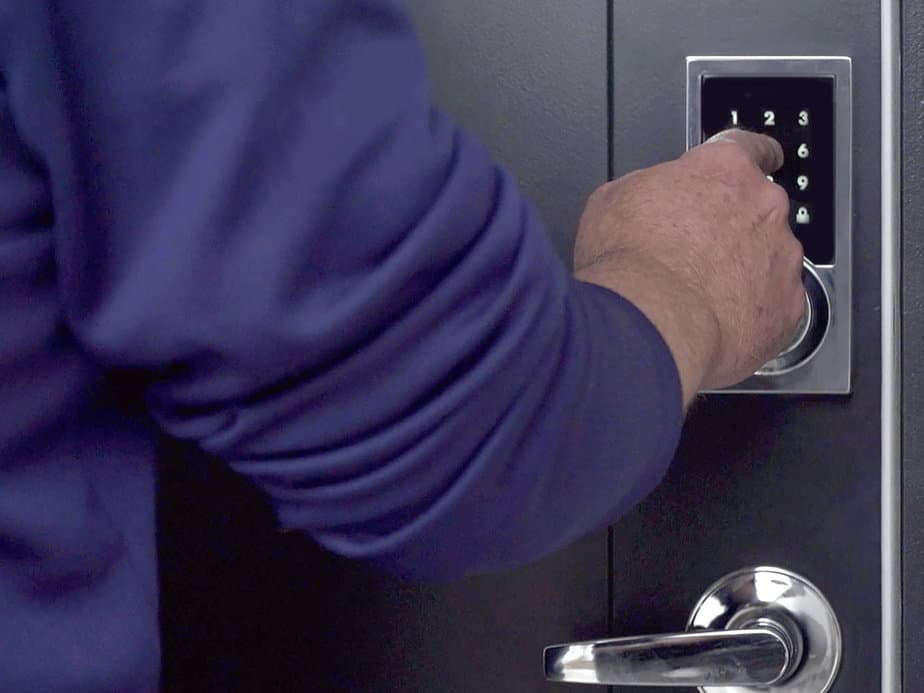 Guests enter the apartment by entering a temporary PIN on the smark lock keypad.
Actionable data sent to your leasing team
Finally, as the tour is completed, your leasing team is automatically notified. Then prospect profile data is automatically sent to your (CRM) customer relationship management system. As a result, you have contact information, type of lease term they are interested in, and a target mov-in date. Next, follow up and close the lease!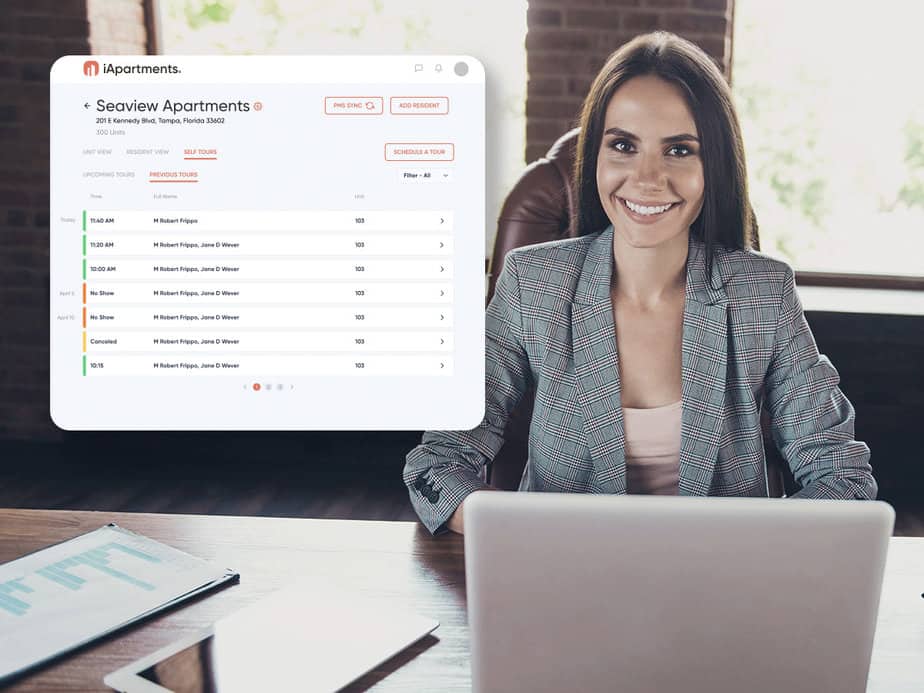 A dashboard notifies leasing teams when a self-guided tour is schduled, the requested move-in date, lease term duration, and more.
Self-guided apartment tours with iApartments
iApartments self-guided tours are available for all multifamily communities. Let your prospects see themselves in your community by giving them the opportunity to tour your property on their own schedule.
We have streamlined the entire apartment self-touring process – from scheduling and identity verification, to temporary access into buildings and the apartment itself – it's all automated.
As a full-service self-guided tour solution, we provide the software, smart locks, and integrations to make apartment tours easy for everyone.
Read More on Everything Smart Home, Controlled Building Access, and IoT