We've pulled together some highlights from NMHC's national survey and additional tenant prefernece data to help operators understand what renter want in 2023 and beyond. Considerations like location might not be as important anymore. Does the property offer touring alternatives? How important is technology to renters today?
The National Multifamily Housing Council recently released survey findings from over 221,000 renters, living in 4,564 communities nationwide. The survey covers a wide range of topics from resident demographics and leasing decision factors.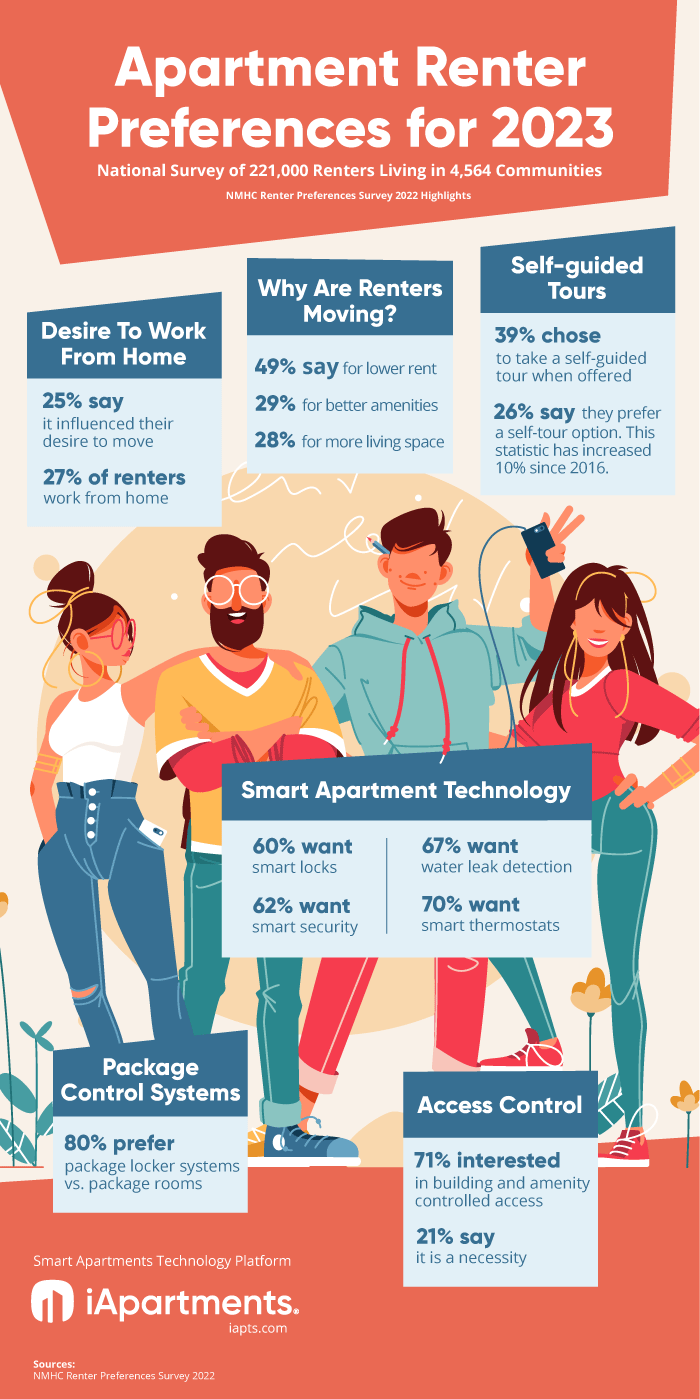 Desire to Work from Home
As we all know, the pandemic has changed things, possibly for a very long time. Renters are willing to reposition themselves to accommodate the desire to work remotely. In fact, 25% said that it influenced their decision to move. This means that many renters can consider living farther away from the office. Today, 27% of renters work from home every day, and another 23% of renters work from home at least one day a week. Additionally, a Gallup survey found that 5 in 10 people are working hybrid or remote, while only 2 in 10 are entirely on-site. And this is expected to grow.
Why are renters moving? The survey shows that 49% are looking for lower rents, 29% want better amenities, and 28% say they want more living space.
Option to Tour a Property Alone
Another pandemic inspired change has taken hold and has been steadily increasing in popularity. This year the survey found that 39% of prospective renters chose to take a touchless self-guided tour as they searched for a new home. When ask how they would prefer to tour their next apartment community, 26% of renters said they would prefer the self-tour option, without a representative present. This statistic has increase 10% since 2016.
This touchless tour option has not only been beneficial for apartment seekers, but it has provided much needed improvements in efficiency for property management teams. As teams are running leaner, operators a turning to smart technology. Devices like smart locks and building controlled access allow prospective tenants to tour the entire property and unit with ease. Many properties use this technology to extend touring hours in the early morning and after work hours. It's a win-win. Leasing teams can meet the prospect after the tour to answer questions and close the lease.
Willingness to Pay Extra
An additional sense of security can go a long way. It may not trump price, but it will influence a final decision for prospective renters. The NMHC survey states that 71% of tenants are interested in controlled building and amenity access with 20% citing it as a necessity when considering where to rent. Renters are also interested in controlled parking. 28% say it is a necessity and they will pay an additional $36 to their monthly rent.
In terms of the actual rental unit, 59% of responders say they are interested in smart locks on their apartment front door. Forget physical keys. The modern renter wants to control everything from their phone and use access codes. Smart access gives them the ability to send temporary codes to home cleaning services like spruce, or to mom when she comes into town. Owners benefit by eliminating the overhead of key management.
Apartment tech is Important
An additional piece of survey data says 62% of younger renters say apartment technology is extremely important to them when searching for a new home ButterflyMX survey.
Everything from apps, like Moved, that streamlines the moving process for residents and leasing staff to smart apartment locker systems with automated package notifications, technology is making life easier. The request for tech that allows you to control your home from anywhere is more popular than ever. Smart thermostats are filling the need for better energy management and efficiency.
Lifestyle Amenities Matter
27% of renters say the biggest benefit of renting is because of the lifestyle amenities offered. Apartments that offer a connected community experience like, controlled guest access, community wi-fi, and shard workspace are in demand.
Summary of Apartment Renter Preferences for 2023:
Work from home
Better amenities
More living space to accomodate home office
Lower rent
Touchless self-guided tour option
Built-in smart apartment technology
Controlled building access
Smart Locks
Controlled parking
Renew contracts and pay rent online
Availability of property reviews
Digital property updates
Read More on Everything Smart Home, Controlled Building Access, and IoT